Usamah Afifi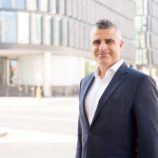 MBA from the Business School at Warsaw University of Technology. He has 20 years of experience in multinational companies such as IBM and PwC. He currently runs his consulting firm, providing assessment in cybersecurity and big data.
Education
Usamah Afifi Graduated from Warsaw University of Technology-Aerospace Engineering and completed his MBA at the Warsaw University of Technology Business School in association with HEC, NHH and LBS business schools.
Usamah Also is a graduate of Executive Management Program at London Business School.
Experience
Usamah Afifi is a professor at Warsaw University of Technology Business School; He lectures the topics of Business Transformation, Project Management and Operations in various MBA and executive management programs.
He specializes at Business Turnaround and transformation at the edge of Technology and Business.
Usamah has 20 year of practical managerial experience (Delivering Programs, Executive Sales and General Management) in Multinationals such as IBM, Lockheed Martin, PriceWaterhouseCoopers, AMS, and Sybase and worked in more than 9 countries.
Currently he is running as CEO his consulting practice as well as IT R&D company.
He serves his customers in Cyber security, Big Data and Business Transformation areas.
He is passionate in practical application of technology and innovation in day to day life.
He also engaged in social activity- Coaching, training and Mentoring using multi-level coaching tools in redesigning life style.
Lines of research
Usamah is a co-founder of a Milestone group and Delivery Excellence Consulting that does research in practical application of Leadership, Communication, Strategy Execution and Business Transformation fields using Innovative technology. He also has published various papers in Information Technology in Business.