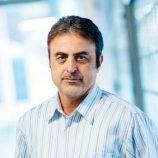 Numan Ülkü
Education
Numan Ülkü holds an MA in Management degree from Bosphorus University (with specialization in Finance, and exchange at McGill University in Montreal); and a PhD in Banking from Marmara University, Istanbul.
Experience
He has double-path career simultaneously working in an investment bank and being a full-time academician. He taught at various universities including Central European University (Hungary) and American University in Bulgaria, and he is currently a Senior Lecturer at the University of Otago (New Zealand).
Lines of research
Numan is an active, worldwide-prominent researcher. He published in world's leading finance journals such as Review of Finance, Journal of Financial Markets, Journal of Banking and Finance and Journal of Empirical Finance. He successfully completed two national research grants from Turkey's and Hungary's scientific research funds, and currently leading a project granted by AFAANZ (Accounting and Finance Association of Australia and New Zealand). He received several research prizes including one from the Central Bank of Turkey. His research focus is financial markets and international finance.