José María Martín Martín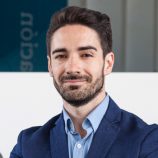 Doctor acreditado por la ANECA como Contratado Doctor. Docente especializado en Estructura Económica Internacional. Sus líneas de investigación actualmente abiertas se centran en el impacto de la economía digital, economía del turismo y economía del desar
Education
Licenciado en Ciencias Económicas. Doctor en Ciencias Económicas y Empresariales por la Universidad de Granada. Máster en Economía, Control y Gestión de Entidades y Políticas Públicas por la Universidad de Granada. Máster en Dirección de Comercio Internacional por ESIC.
Experience
Ha sido Director del Área de Empresa de Unir, Director de Proyectos del Servicio de Consultoría de BMN y Caja Granada, Director Ejecutivo de Benday Spots Consultoría Empresarial, Director de Proyectos de Consultoría en Human Development Group. Ha desarrollado durante más de 15 años actividades de consultoría para instituciones públicas y empresas privadas. Profesor de universidad desde hace más de 10 años.
Lines of research
Director del Grupo de Investigación Retos de la Economía Digital en el Desarrollo Económico y Social -REDDES-, de Unir. Ha publicado numerosos artículos en revistas de elevado impacto, tales como Social Indicators Research, Applied Research in Quality of Life, Tourism Economics, Tourism Geographies, The American Journal of Economics and Sociology entre otras. Autor de más de 20 monografías sobre análisis económico y sectorial. Sus líneas de investigación actualmente abiertas se centran en el impacto de la economía digital, economía del turismo y economía del desarrollo. Ha desarrollado estancias de investigación en Irlanda, Francia y Dinamarca.