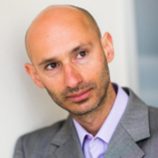 Garen Markarian
Education
Dr. Markarian has earned a B.S. in biology from the American University of Beirut, and a Ph.D. from the Weatherhead School of Management at Case Western Reserve University.
Experience
Dr. Markarian has 15yrs+ experience in management education at the undergraduate, masters, executive, and Ph.D. level. He currently is the academic co-director of the Venture Capital and Private Equity executive education program, and the academic director of the WHU risk management program partnered with the Stockholm School of Economics. Previously holding the position of First Regional Economic Officer for Western Asia at the United Nations, Dr. Markarian has extensive experience in research on governance mechanisms, executive compensation, the banking crisis, stock markets, and financial statements and valuation. Beforehand, he was a consultant for Standard & Poor's "Society of Industry Leaders," as well as for starts-ups and private equity.
Lines of research
His publications have received awards both from the American Finance Association and the American Accounting Association, and were mentioned in the Financial Times and CFO magazine.