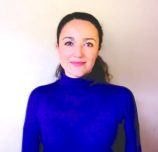 Ana Mª Barbero Franco
Education
Licenciada y Doctorada en Bellas artes con Acreditación de Doctor Europeo; Premio Extraordinario de Doctorado; Postgraduada en Cooperación y Gestión Cultural Internacional, en Políticas Culturales, en Gestión del Patrimonio Histórico y en Desarrollo Comunitario y Nuevas Tecnologías.
Experience
Desde el año 1998 hasta la fecha ha impartido docencia reglada en España y Portugal colaborando con el Instituto Piaget; Universidad de Salamanca; Universidad Internacional de la Rioja; Universidad Isabel I de Castilla.
Además, es artista y comisaria en diversas exposiciones colectivas e individuales; como gestora cultural ha dirigido y colabora-do en diversos como Coimbra Ciudad Nacional de la Cultural, Cáceres Ciudad Candidata a Capital Europea de la Cultura, Os Ambientes do Ar: proyecto de desarrollo local.
Lines of research
Ha dirigido y participado en diversos proyectos de investigación e innovación educativa. Actualmente está integrada como investigadora en el Instituto de Investigación en arte, diseño y sociedad de la Universidad de Oporto (Portugal) donde lleva a cabo la investigación post-doctoral "Cartographies of Feeling".